While I was waiting for quilt batting to show up, I made a quick drawstring bag for Isla.  The pattern is here.  I made a mistake and ended up with an ugly seam on the bottom, but since it's on the bottom, it's really not noticeable.
It reminds me a lot of the drawstring purse I used to carry in college.  I'd forgotten about that little purse.  It was just like this – fabric, with a drawstring.  I've half a mind to make another for myself.  The methodology was very similar to the previous bag I made, and without the interfacing mistake I made on the last one, it was quick and easy.
My batting came, and I did a couple practice runs this morning.  I want to quilt the quilt using a spiral pattern like this: (Click image to go to the Etsy store of the woman who created the pillow.)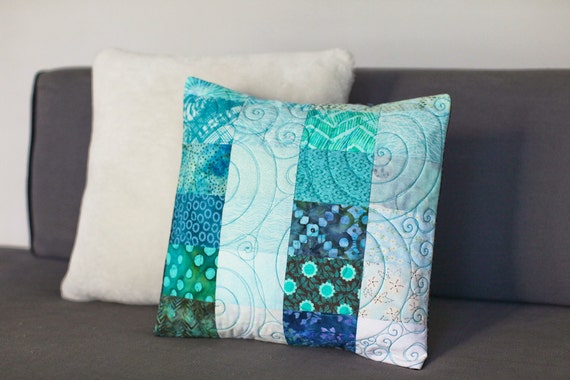 However, my initial attempts have not been terribly successful.  My lines are very wavy instead of smooth, and I'm prone to random excursions every time I start or stop.
I guess I'm going to do several more practice runs, and then I'll just go for it.  I won't get any better without practice, right?  I remember the first thing I knit, this rectangle that I called a shawl.  I started with 80 stitches and unintentionally ended up with 120.  But I learned so much hacking my way through that thing.  Hopefully it's similar with quilting.
We lost power for a spell last night.  I wasn't thrilled given I rely on power for entertainment during my middle of the night wake-ups, and I'm still feeling sick.  However, it came back on shortly and did give us a chance to test our preparedness.  Our yard was filled with leaves from the wind this morning.