Do you have a sectional?  Do you like it?  Having finished with the playroom, I want to make some changes to the living room as well.  Currently, we have an 86″ couch (on the small side as couches go) and an antique rocking chair.  The latter is not the most comfortable seating in the world.  We have four use cases:
1.) H and I hanging out at night.  We both would like to be able to put our feet up.  We can't do this with our smallish couch.
2.) The four of us hanging out.  This is really not an issue.
3.) Our parents visiting.  That means seating for four adults and one to two kids.
4.) Entertaining.  We rarely entertain more than one couple at a time, but we have some friends with older children, so that's four adults and say three kids.
Our room is 15 x 15.5 feet with a fireplace on one end and a large, low window at 90 degrees to the fireplace.  The real estate photos – again, remember they take these to make everything look bigger than it is.
Note the sectional.  Every since I plopped down on that sectional at 8 months pregnant, I've wanted one just like it.  I've been using Planner 5D to model up options.
As far as sectionals go, there's a sectional that is really just a couch with a chaise: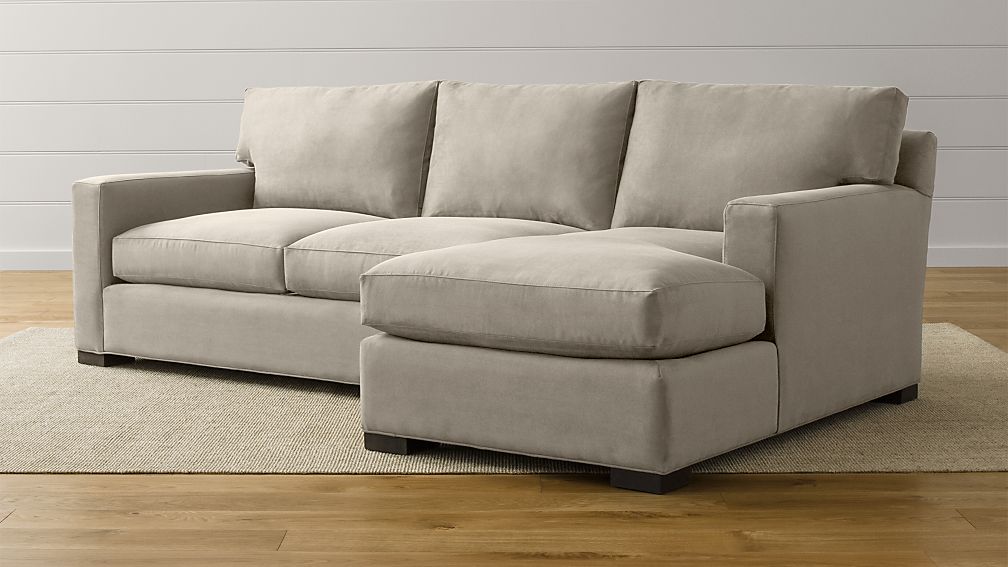 However, that doesn't have any more seating than a standard couch.  With regard to guests, some people might feel uncomfortable just coming in and putting their feet up straightaway.
Modeled up in Planner 5D with a chaise.  The white things on the left are the fireplace flanked by two bookcases.  The brown square thing is an ottoman meant to be used as a coffee table.  The white rectangular thing on the far wall is meant to be a daybed for extra seating in front of the window, and the brown roundy thing is a chair.  We want to have one stiff chair that is good for older people to sit in.
Then there is the small L-shaped option.  With a wedge, this starts to look a bit better:
I think that you can argue that four people could sit on this comfortably.  After all, our current couch is only 86 inches.  This thing is huge by comparison.  The room starts to look more crowded, but not too bad.  (Ignore the difference between the sectional appearance and the photo.  The dimensions are correct.)
Alternatively, some places sell options with a "bumper" which look like this.  The bumper is the chaise thing on the right.
This thing is bigger – 110″ by 102″ – but the low chaise doesn't block the view into our living room the way a couch with a back does.  It looks like this:
However, I think it really sticks out too far and makes it hard to enter and exit the room.  The chair would need to go on the other side, perhaps.
I'd appreciate any input from people who have sectionals.  I've never lived in a house with one.  H and I would really just like to be able to sprawl out together on the same piece of furniture in the evenings.
I've found an ottoman and chair on Anthropologie that I love, but they cost a fortune.  I'm sure I can find some cheaper alternatives, but here they are nonetheless: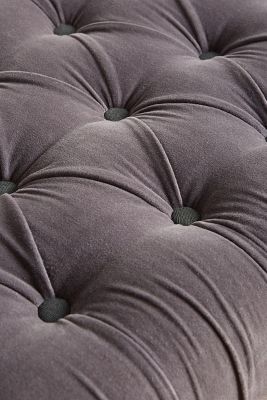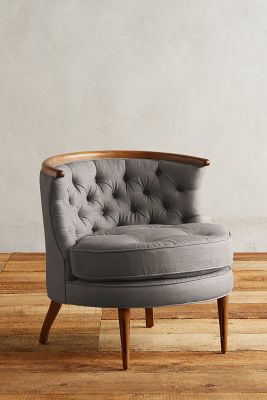 Oh, I should add, I found my sectional plus ottoman inspiration in a book, but here's something online that's similar: