B slept so much better last night.  She only woke up twice, though I had a devil of a time getting her back down after the second wake-up.  (Before the recent regression, she woke up once or twice a night, and often one of the wake-ups was conveniently about at the time I went to bed.)
I'm looking into replacing the drapes in our bedroom with blackouts.  I found that really helped with getting L to sleep later in the mornings.  Does anyone have any recommendations as to where to shop for drapes?  I have found some very nice options at Pottery Barn and Restoration hardware, but they are very expensive.  Is there a cheaper non-name brand option?  Last time I bought blackouts, at our old house, I just went to Target, but honestly, I wasn't wild about what I ended up with.
From Pottery Barn, I like the white drapes with vertical blue stripes:
However, it only comes in 50 inch width.  My window is 95 inches wide, and you're generally advised to buy drapes twice the width of your window.  I don't need the drapes to be beautiful when closed, but I do need them to be fully functional in terms of blocking the sun, so this is probably not a good option.
Pottery Barn also sells plain linen blackouts.  I like the blue.  (B's favorite colors are blue and green – conveniently the same as mine.)  They don't have the same cache as the stripes, I don't think.  But perhaps simpler is better.  I'm always attracted to showy patterns, but I don't trust my decorating instincts.
I also looked at drapes at Restoration Hardware.  Like most of the stuff on that site, they are beautiful but wildly expensive – beyond what I consider.  Their drapes come in "spruce" which looks blueish.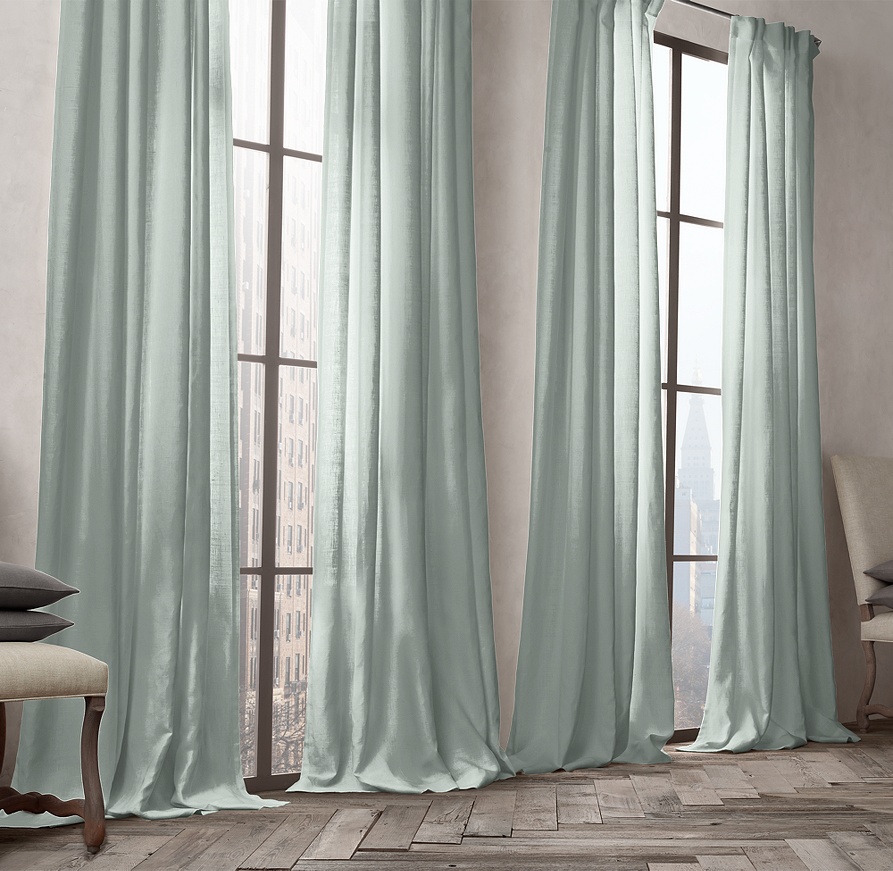 Googling "drapes" brings up all manner of options.  I looked through JC Penney, Macy's, Kohl's and West Elm, but I didn't really see anything that grabbed me.