We went to see two more pricey houses today.  The first was on Mercer Island, ground zero for centrally located, stellar schools, and beautiful neighborhoods.  The house we went to see has been on the market for six months.  It's currently listed at 760K, and I think the sellers would probably part with it for 750K or less.
http://www.redfin.com/WA/Mercer-Island/4915-E-Mercer-Way-98040/home/255965
It looks lovely in the pictures, and I had high hopes.  After seeing it, I kind of loved it.  And I'm not sure I could sleep at night if I owned it.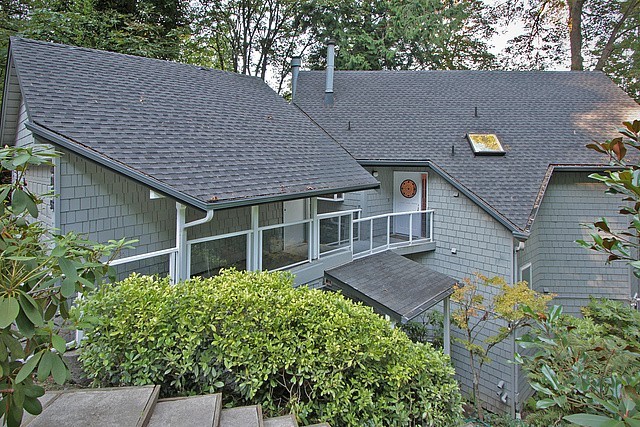 It's basically a tree house.  It has a separate garage (structure on the left) not connected to the house, which might fit two cars if you remove the internal shelving.  Then, the house itself has six levels.  From the top, Level 1 = Den, which we would use as B's office.  Level 2 = Kitchen.  Level 3 = Living Room.  Level 4 = Master bedroom.  Level 5 = Another bedroom.  Level 6 = 3rd bedroom.  It has plenty of space.  The yard is very sloped and there really is no grassy space.  The grassy space in the photos is now just mud – I guess the grass didn't take?
But all the rooms are very nice.  The living room is gorgeous and gets lots of light as does the master bedroom and the office / den.  I can definitely see living there.  But, it's the kind of house which might have hidden water and structural problems, and that definitely scares me.  The yard itself is kind of a monster.  Except for the flat muddy patch, which I hope you could make grass stick on, but no guarantees, it's all steep and overgrown.  It's quite a lot of land, but wow.  The idea of trying to do something with it – or pay someone to – is very intimidating.
The location and schools really could not be any better.
Gorgeous living room, though it's smaller than the photos implies:
B's potential office – love.  Also much smaller than it looks here:
The area which I guess used to be grass, but is now a mud patch:
We then went to see a second house in Belle.vue, centrally located, good but not great schools.  Newly listed and probably impossible for us to get as we can't afford, or won't, go much over list.
http://www.redfin.com/WA/Bellevue/15140-SE-53rd-Pl-98006/home/238221
The whole house (almost anyway) has stunning views and gorgeous light.
Unlike most houses I post which are not nearly as nice as the photos, the pictures of the view and backyard do not do it justice.  It reminds me of where I grew up, with view of the Blue Ridge mountains.
The house had a couple of significant downsides, at least for me.  The master does not have an en suite bath.  I love having an en suite bath.  At times like recently when I had morning sickness and was throwing up a lot, having an attached bath is just so nice.  I am also kind of messy in the bathroom, and it's just nice to have my own space there without annoying B.  There is another bath on the top floor which is kind of out of the way, but which theoretically could be used as the bathroom for guests.  There is a really weird bathroom on the bottom floor – one room for the toilet, and another for the shower, both extremely small.  Anyway, not ideal, but not a dealbreaker.  The second issue is that the master is on the main floor and all the other rooms were on the lower floor.  The master is a bit small, also, and it's not clear you could fit a queen size bed and a crib in there, as we do now.   If the house was 550K, I wouldn't hesitate, but it's not.
The sellers are reviewing offers Thurs, and it'll probably be competitive, which means we probably don't have a chance, so perhaps it's all moot.  We'll see.
I just noticed that the house I'd hoped we could see tomorrow, listed a mere 5 days ago, has already sold.  Usually they at least wait until after the weekend to review offers.  *sigh*